Time for a Quick Car Seat Check!
By Nancy Anthony, NHTSA-Certified Child Passenger Safety Technician
As you get ready for summer road trips and vacations, don't forget to do a quick check up on your child's car seat status.
Is your child in the right seat?
Babies grow quickly. Verify your child's current height and weight and make sure they are within the limits of their car seat. Height and weight limits vary by car seat brand and model, but they are always printed on a label on the side of the seat. Rear-facing children should also have at least one inch of space between the top of their head and the top edge of the car seat shell. When your baby reaches the upper weight OR height limit, OR when they have less than one inch of space above their head, it's time for a larger car seat. Look for a convertible seat to keep them rear-facing as long as possible.
If you plan to drive in other states, check the child restraint laws in those places to make sure you're in compliance. For example, some states now require children to ride rear-facing until age 2 and some have minimum ages for riding in the front seat.
By NM law, children must ride in a car seat or booster seat appropriate for their age and size until they are at least 7 years old AND 60 pounds AND the adult seat belt fits them properly (they can sit with their back against the vehicle seat with their knees bent over the edge of the seat and their feet flat on the floor, the lap belt sits low on the hips or across the upper thighs, and the shoulder belt crosses the child's shoulder and chest, not their neck or face). Teach them to always sit upright and never to put the seat belt under their arm or behind their back.
Is your child's harness adjusted properly?
If your child is rear-facing, are the harness straps AT OR BELOW their shoulders? If they are forward-facing, are they AT OR ABOVE? Adjust the straps if needed. Directions for adjusting your harness are in your car seat manual or user guide (available online if your paper copy has disappeared). Your car seat manufacturer's web site may also have a short video on harness adjustment.
Make sure to tighten the harness until you can't pinch any folds of it between your thumb and finger.
Make sure the chest clip is always level with your child's armpits.
Is your car seat installed correctly?
Double check the recline angle according to your child's current age and weight. If your baby is at least 3 months old, you may be able to sit the seat up a little more, which may increase its safety. Check your manual and use the recline indicator on your seat.
Double check the tightness of your installation. The seat should not slide side-to-side or front-to-back more than one inch.
If your child is forward-facing, make sure you have connected the top tether strap (on the back of the car seat near the top) to the proper anchor point behind their seat. This greatly reduces the risk of head injuries in a crash.
Beware of summer heat!
Car seats can get extremely hot, especially any metal parts. Always feel the seat and buckle before loading your child into the seat. Children should always wear a shirt to protect them from hot car seat parts and harness friction.
Make sure rear-facing children are getting plenty of air circulation while in the car. The deep sides of car seats can reduce airflow as well. Adjust your car's vents and don't cover your child or overdress them.
Stop for meals!
Don't feed children riding in rear-facing car seats. The reclined angle makes choking more likely, and facing the back means you might not realize if something goes wrong. This is true for children of any age.
Check for recalls or safety notices.
If you forgot to register your car seat or are using a pre-owned seat, take 2 minutes and check for any recalls by going to www.nhtsa.gov/recalls (choose the car seats tab). You can easily search by brand or model name.
Is your seat expired?
Remember that car seats have expiration dates because the materials used to make them break down over time. Age, daily use, and the extreme temperatures in vehicles may limit the number of years your car seat will perform as it should. Expiration dates vary, but yours will be on a sticker or imprinted into the plastic shell of your car seat.
For more information check out my previous newsletter articles on seatbelts and pregnancy, road-tripping and flying with your baby.
And, as always, please contact me at nancy@daraluzbirthcenter.org with any car seat questions or concerns. Have a great summer!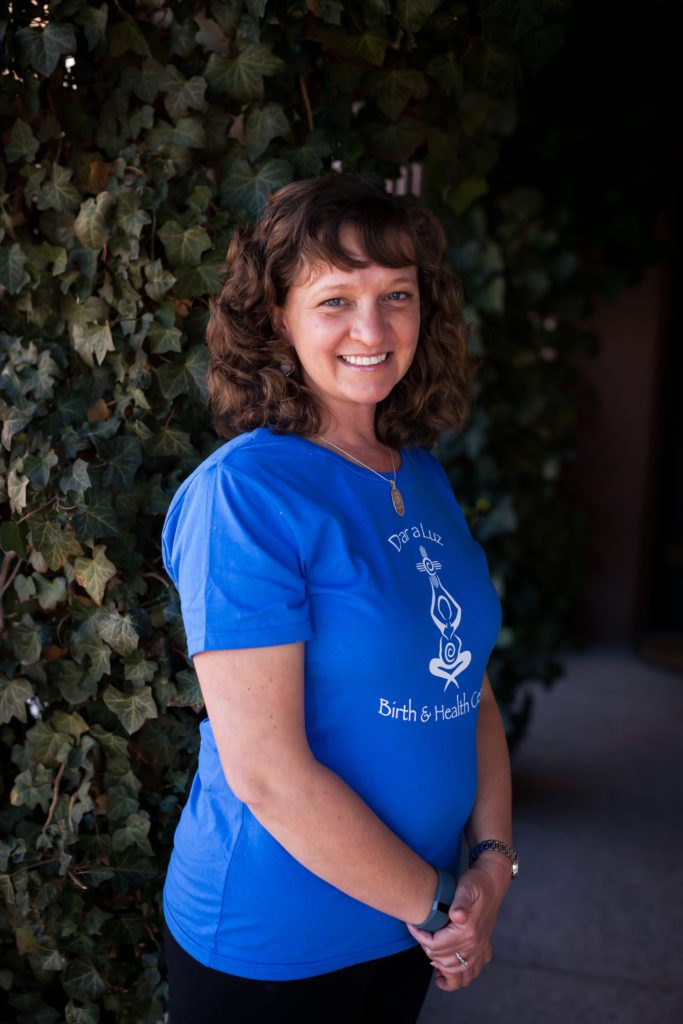 Nancy has been a NHTSA-Certified (National Highway Traffic Safety Administration) Child Passenger Safety Technician and Instructor since 2002. She is passionate about protecting our children from one of the worst dangers in the United States – car crashes. She loves to help parents select, install, and use their child's car seat correctly. If you are unable to afford a car seat, she may be able to assist you in obtaining a new one. Nancy lives in Sandia Park with her husband and two children.