A Love Letter for You!
by Claire Merritt, BSN, RN, DAL birth assistant
Dearest parents,
You are beautiful, amazing, intelligent, creative, powerful and imperfectly and perfectly you. You have something to contribute to this world. You are the only you in this world.
Our whole lives, we are pressured to look a certain way, act a certain way, go to school at the "right" time, to have kids at the "right" time, to raise our kids the "right" way…What does the right way even mean? The truth is that the "right" way is different for each person.
I think despite all the powerful messages to the contrary, the most important thing to be is your own unique self. Your uniqueness is beautiful, and it is that uniqueness, and being able to embrace each other's differences, that truly brings more richness to the world we live in.
So I wish for you that you stay true to who you are.
I am inspired to write this to you because of a video that a coworker recently shared called "Be a Lady," which exhibits the pressures put upon people in society to look and act in certain ways (view it HERE). Expectations and "shoulds" are often unrealistic and contradictory. It seems that no matter how you decide to live your life, there is someone out there who is willing to criticize you for it. The easiest solution is to really look deep inside of yourself to who you are.
Your life experience has created the beautiful human that you are. All the challenges and triumphs throughout your life make you YOU. No one can say what is right for you except for you. It doesn't matter whether you had your kids when you were young or after your life was more settled. It doesn't matter whether you went to college or not, or how much money you make.
None of these things change who you are at your core, or how much you love your child, or your ability to be a good parent.
I am not saying that you shouldn't sometimes take advice. You may choose to listen to advice offered from people with good intentions; but listening with an open heart, and incorporating the advice that works for you also means releasing what does not. Listening from a place of confidence in yourself is about recognizing that, just as you are amazing, so are those around you. And then, do your own research. Find what makes you feel safe, explore all the options that exist, and trust yourself to find your "right" way. Education and self reflection are such an integral part of finding your true self.
Many of you chose Dar a Luz because you know how to do that research… and you know self reflection and advocacy are crucial to creating the birth experience you want. Choosing a birth environment within which you feel safe is a priority. Thank you for letting us provide you with that safe space for such a monumental moment in your life!
Crafting your family with intention
Being a parent can be one of the most challenging and rewarding experiences of a person's life, and it starts early. It's definitely one of the times when we can feel extremely judged. Although people's intentions are often good, it can feel like everyone has their two cents to offer about everything: from your pregnancy, to your birth, to how to raise your child.
We make so many choices every day, and it is those choices that create our family dynamics. Some thoughts about some of the early choices parents face:
Health
From family planning, to prenatal care, to birth, to postpartum care and beyond, there are so many important choices along the way! Each shapes you as a parent and as a family. I am a big advocate of birth center births, but the truth is, the most important thing is to birth in a place where you feel safe, have confidence in your birthing team, and feel heard and respected. Creating your birth with intention is a gift to yourself, your family, and your baby.
Feeding your baby
After all your hard work growing your precious little baby, you'll continue to nourish them after they arrive! It is OK to breastfeed, and it is OK to bottle feed, and it is OK to do a mix of both. Find what works for you, your baby, and your family, and be open to changes to those needs. Being kind to yourself about your expectations and your abilities is crucial.
Daycare vs. staying at home
Another big choice after adding another person to the family is deciding what is best for your family: staying home with baby, or going back to work. And both are OK! If you stay home, create your own unique version of that, which supports your unique family. If you go back to work, take the time to find out what child care looks like for you. Prioritize, seek your own answers, and make choices based on your family's situation. Get creative, and trust yourselves.
Trusting and believing in yourself can be hard. We believe in you.
The truth is, you get to decide what being a parent looks like for you and your family. Just as each person is an individual, each family is unique too. Learn to parent and interact with your children in the way that feels true and right for you. That unique and special connection you share with your child or children is part of what makes them the people they will become. I wish you so much trust in yourself and in each other.
I challenge you to celebrate your individuality, to celebrate each other, and to lift each other up. In a world filled with criticism and critique, be kind to yourself and others. Let your personality shine through and help your children grow up in a world where differences bring beauty and richness to life. Teach your children to love by showing them that you know how to love yourself and others around you — regardless of and because of our differences. And know that you have a whole team of cheerleaders here, seeing your goodness and believing in you.
In loving gratitude to YOU,
Claire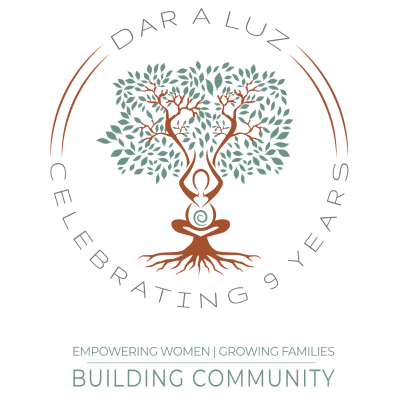 Dar a Luz 9th BIRTHday
Celebration and Benefit
Saturday, April 25th, from 6:00 pm – 12:00 am, at the beautiful Sandia Golf Club
Featuring: Cocktail Hour, Silent Auction, delicious family-style dinner, and live entertainment by Nosotros! Buy your tickets HERE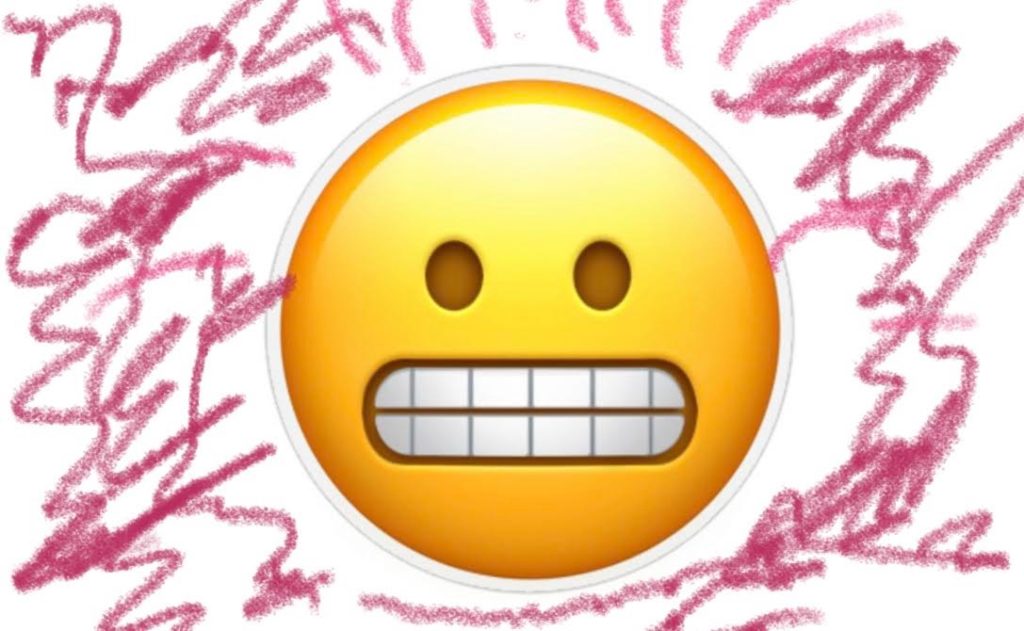 Anxiety Support Group with Laura Wood
Worry, stress, anxiety, panic…we've all experienced it in some form. At best, it feels awful. At worst, it disrupts sleep, relationships, work, and happiness. This group is about education, peer support, and taking back control. Learn tools, and participate in a discussion about how your life has been affected by stress and anxiety, and how you're healing as we go. 
Meets every 4th Saturday unless noted, 4-6 pm, at Dar a Luz. $10/person (get in touch if this is a hardship). Open to all. RSVP HERE please!
Upcoming Events
To register for classes visit our website calendar pageHERE
---
Birth Center Tours
Register HERE
Saturday, March 14th
Saturday, March 21st
10:00 to 11:30 a.m.
Interventions and Hospital Transfers
Learn what happens when birth doesn't go as expected. Hear from midwives, doulas, counselors, and a past family who transferred. Free dinner! YOU MUST register for this class. Click HERE to register.
Wednesday, March 25th
5:15 to 8:00 p.m.
Doula Teas with the New Life Doula Collective
Come & join us for some tea, and meet our doulas. We'll help you learn more about doula care, so you
can explore your options. RSVP for tea HERE to let us know you're coming (drop-ins OK too) or to learn more about doulas visit Doula page on our website HERE
Saturday, March 14th noon
Monday, March 23rd 5:30 p.m.
_____________________________
Groups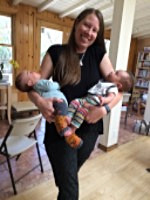 Breastfeeding and New Moms
Facilitated by our Lactation Consultant Robin Hayter with support from the nurses and midwives.
Wednesday mornings, 10:00 to noon
(No group March 11th)

Postpartum Mom Group
Our staff counselor Kimberlee Maresma, LPCC will hold a therapeutic group that supports the new mother for the first year. Email Kimberlee HERE with any questions.
Fathers Mindful Group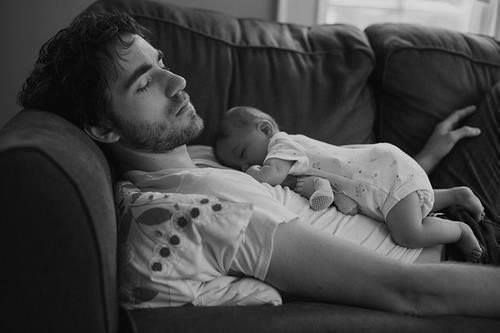 Thursday, April 23rd at 6 p.m.
The Postpartum Partner Group has a new name! Please join Jose Maresma for an evening of an emotionally safe exploration of the differences our partners face after the birth of a new baby. This Workshop is for fathers. Suggested donation: $10-20 
_____________________________
Community-Wide Doula Meet & Greet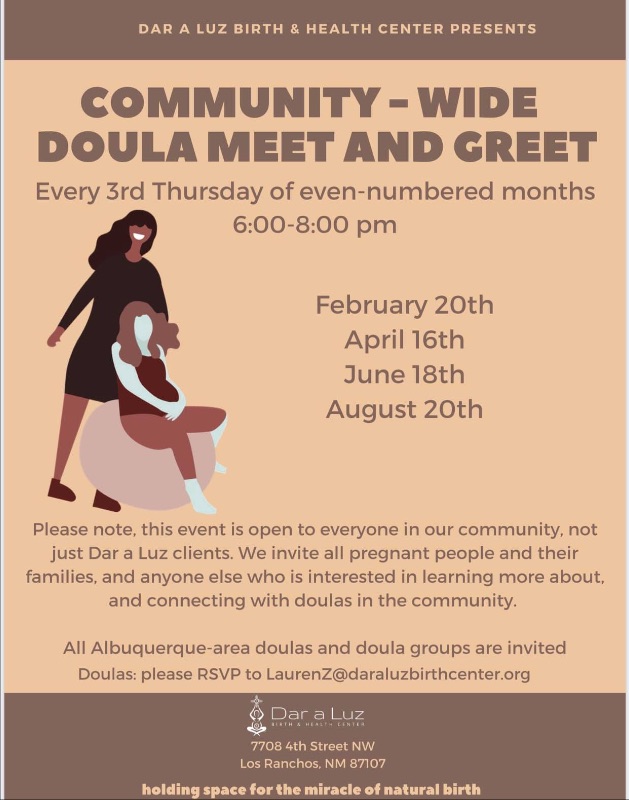 Thursday, April 16th at 6 p.m.
This meet and greet is open to all Albuquerque Doulas and parents!
More info HERE
Baby Count
1001
Milk Count
368350
…and counting! That's over 2877 gallons! Go, Mamas, Go!
---
Bonus classes
Disclaimer: Most of the special events below are set up and led by community members — not Dar a Luz staff members — and as such, they don't necessarily reflect our beliefs as an organization. Dar a Luz is not responsible for their content, and does not necessarily endorse every aspect presented.
_____________________________
Infant Child and Adult CPR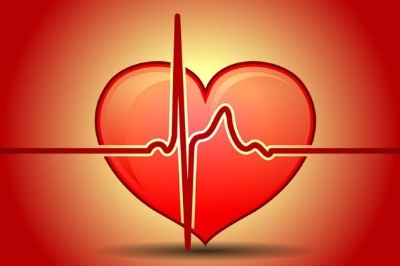 Monday, April 20th at 6 p.m.
Firefighter Kris Romero leads this certification course in infants, child and adult CPR. Learn the basics for life-saving measures, what to do in an emergency, and feel more prepared for a sudden, unexpected event. Cost: $40 per person- PRE-PAY 100% NON-REFUNDABLE at the time you sign up. Space is VERY limited so register today. Register HERE
_____________________________
Pappy Hour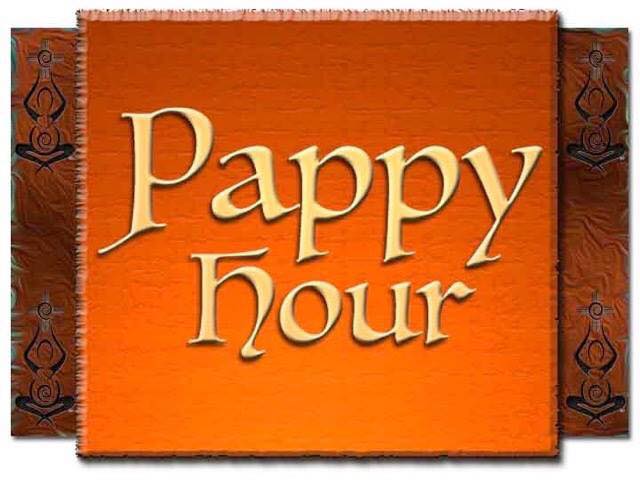 Thursday, March 12th at 5 p.m.
Location: Tractor Brewery, 118 Tulane SE
Saturday, March 28th at 4 p.m.
Location: Desert Valley, 3517 Wyoming NE
This group is for all expectant or new Dads in the community and moderated by our own Dar a Luz Dads. RSVP HERE Dar a Luz does not advocate or encourage the abuse of alcoholic beverages. Please drink responsibly and in moderation.
_____________________________
Free Family Music Demo!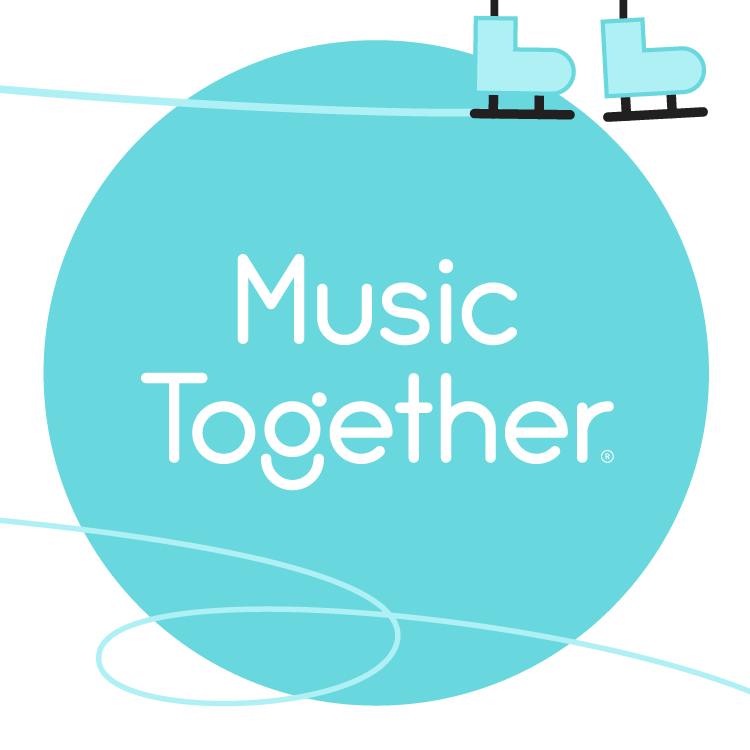 Saturday, March 21st at noon 
Friday, April 10th at noon
For kids from newborn to five, and their families and caregivers. Please join us for a FREE demonstration class at Dar a Luz Birth and Health Center from 12:00-12:45 pm. We can't wait to make music together with you! Register HERE
_____________________________
Don't miss the Annual NM Parents of Multiples Spring Garage Sale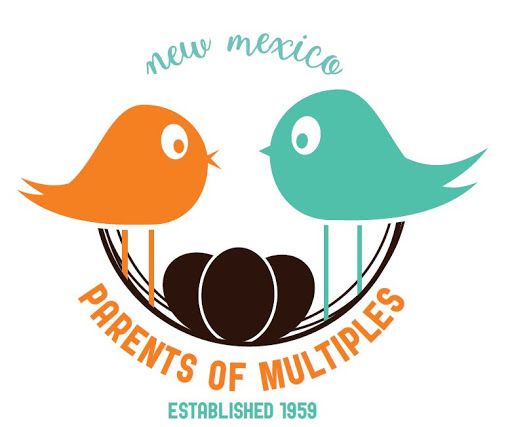 Saturday, March 14th from 7:30 a.m. to 1 p.m.
Grace Church Gymnasium 6901 San Antonio Dr. NE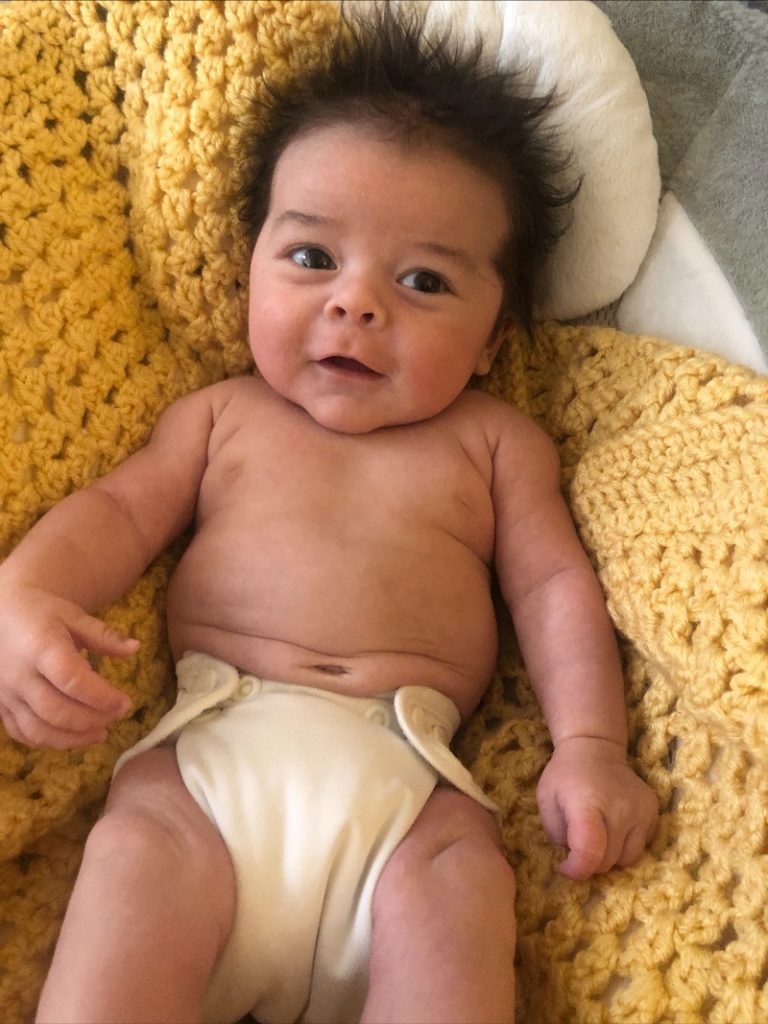 Name: Kiowa
Birthdate: January 11th
Fun Fact: This adorable cutie gets the giggles in his sleep!
You can have your baby featured by emailing usHERE a picture of your cutie and we'll put them in a newsletter! Please include permission to use the image, your little one's first name, date of birth, and a fun fact.