Reading to Babies in the First Year
by Nancy Anthony, Carseat Clinic Educator
Let me start by just saying I love books. I love holding, smelling, reading, collecting, and sharing them.
Real, paper and ink, turn-the-pages books. Some of my sweetest memories as a child, and as a mother, are centered around books. Even if it wasn't a big part of your childhood, and even if you aren't obsessed like I am, you can make reading a significant part of your relationship with your baby from the very start. It's never too early to start reading to, and with, your children, and it provides so many amazing benefits.
We all know reading skills are important for later learning, but books and reading can be far more than just a subject in school. Reading aloud with your nonverbal baby may feel awkward or silly, but it has many benefits to their early brain development. When read to frequently, even the youngest babies will react positively by calming their bodies, focusing their gaze, widening their eyes, smiling, kicking, or waving their arms. You don't always have to follow the text as written; feel free to make up your own words or simply discuss the illustrations. Skip pages if you want, spending more time on your favorite ones.
Reading to your baby helps build their language and cognition skills long before they speak their first words. Read with feeling. Vary your tone, inflection, and cadence. Change the voices of different animals or characters. Sing the words if you want to. Be silly. Be dramatic. Act out the motions or actions to promote comprehension. Whatever feels right to you is exactly what your baby wants.
Reading to your baby teaches social interaction and listening skills. Ask questions, even if they can't answer yet. Point to pictures. Draw connections from the book to the baby's environment. "See the brown puppy? The puppy has a red ball just like your red ball." Reading to children gently increases their attention span over time.
And most importantly (in my opinion, at least) reading together facilitates bonding and cultivates your child's emotional skills. They will learn from watching your facial expressions and listening to the changes and nuances in your voice. You will both love the physical contact, whether they are on your lap or cuddled up next to you on the couch or bed.
What should you read to an infant? Initially, ANYTHING YOU WANT. Especially in the first few weeks (or even before birth), you can read literally anything to your baby. Go ahead and share your favorite novels, magazines, textbooks, even the instruction manual to your new dishwasher. It's your voice and your interaction they crave. Over the next few months you can introduce your baby to a wide range of more developmentally-appropriate and fun books.
Babies love books with simple text and pictures. Look for high-contrast illustrations and patterns, especially in black and white. They also enjoy real photos of babies, faces, and common items. "First Word" books are a great choice. The photos babies enjoy most of all are photos of actual people they know and love. You can make a simple 3-ring binder "album" of your baby's favorite people, pets, and frequently-visited places, like daycare, the park, or grandma's house. Use plastic page protectors to avoid damage from drool and sticky fingers.
Babies also love books that can be about themselves. Find books about specific body parts (feet, eyes, etc.) and books about familiar everyday activities (eating, bathing, getting dressed, etc.) A book with a mirror in it is always a winner.
To really fall in love with reading, babies need to be allowed to touch, hold, and even taste their books.
Board books with rigid pages are more durable and easier for babies and young children to handle and turn the pages. Other good choices are books made of vinyl or cloth. Some can even go with baby into the bathtub. Interactive books with a variety of textures or flaps to lift are fun. Books with tracks or lines to trace with their fingers are also intriguing and begin to teach writing skills. Indestructibles® is a line of books that claim to be "Chew Proof, Rip Proof, Nontoxic, and 100% Washable." Leave books within reach around the house. Mix books into your child's stash of toys. If your child ever rips or otherwise damages a book, try redirecting or modeling the proper way to care for books, rather than reacting with anger. Don't correct young children when they "read" books upside down or turn the pages out of order. Let them explore. The goal is to foster a positive relationship with books and reading.
Young children love repetition and predictability. Repetition is comforting and essential to learning.
Choose books with repeating words, repeating sounds, and rhymes. Learning to anticipate or guess what's going to happen next is a major reading comprehension skill, and it builds self-confidence. When they are eventually able to choose the book they want, be prepared to read the same book over and over and over. And over and over. I can still recite the entire text of my son's favorite Silly Sally book. He's in college now. What may be a boring or annoying book to you could be your child's favorite part of their naptime routine. You'll be rewarded one day when they want to "read" the book to you.
When should you read to your baby? Any time. Read first thing in the morning, while nursing, before nap or bedtime, at restaurants, or while waiting for a doctor's appointment or an oil change. Keep books in the car and diaper bag. Read only as long as your baby is enjoying it, which may be only a few minutes at a time. If they look away, cover their eyes, arch their back, push the book away, or start fussing, they have reached their reading limit for the moment. Following their cues is important… if you pay attention to even tiny babies, they'll let you know when they are overstimulated, ready for a different activity, or needing something different. Don't worry about finishing a book or even reading the pages in order. Follow your child's lead for the most enjoyable interaction.
When your baby starts crawling or walking, they may begin to resist sitting still for reading time. Don't stop. Read anyway, even as they explore the room or play with toys nearby. Read their favorite books and animate your voice. They may come back to look at the illustrations or catch a quick snuggle. Even if they aren't sitting on your lap, your baby is still listening. And exploring, with you being their safe place nearby that they can always come back to, is an important part of development and attachment. Again, as always, keep it short and fun.
One final suggestion: If you have older children, encourage them to read to the baby as well. This provides reading practice for the older child (even if they're making up the words), and creates a beautiful bonding (and photo) opportunity.
Below is a list of some staff favorites… be sure to add some of your own in the comments section, too!
Nancy
Sources:
Clevelandclinic.org
Zerotothree.org
Kidshealth.org
Books to Look For
Whether you're building your own collection, heading to the library, or looking for the perfect baby gift, here is a list of excellent books for babies in their first year and beyond. Many of these are personal favorites recommended by Dar a Luz families.
Jamberry by Bruce Degen
Silly Sally by Audrey Wood
Corduroy by Don Freeman
Fish Eyes: A Book You Can Count On by Lois Ehlert
The Little Mouse, The Red Ripe Strawberry, and THE BIG HUNGRY BEAR by Don and Audrey Wood
I Love You, BLUE KANGAROO by Emma Chichester Clark
That's Not My Dragon…Its Ears Are Too Tufty an Usborne book (series)
One Duck Stuck by Phyllis Root
I Can by Helen Oxenbury
Global Babies by The Global Fund for Children (series)
One Fish, Two Fish, Red Fish, Blue Fish by Dr. Seuss
Rumble in the Jungle and Commotion in the Ocean by Giles Andreae and David Wojtowycz
Ladybug Girl and Her Mama by David Soman and Jacky Davis (series)
Mama, Do You Love Me? by Barbara M. Joosse
The Very Hungry Caterpillar by Eric Carle
Wishy Washy: a Board Book of First Words and Colors for Growing Minds by Tabitha Paige
Hands Can by Cheryl Willis Hudson
Moon by Britta Teckentrup
Good Night, Gorilla by Peggy Rathmann
Moo, Baa, LaLaLa and Doggies by Sandra Boynton
Guess How Much I Love You by Sam McBratney
Baby Listens (a Little Golden Book) by Esther Wilkin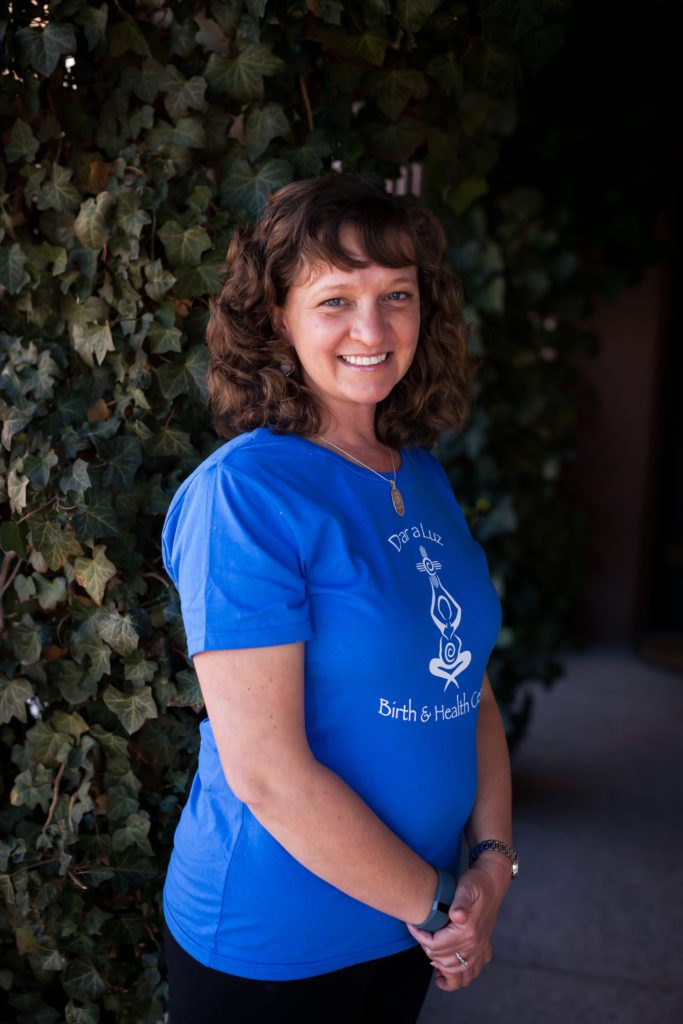 Nancy is our Certified Car Safety Instructor. She lives in Sandia Park with her husband and two children, ages 10 and 1. Her daughter, Charlotte, was born at Dar a Luz in 2011. Nancy is a huge proponent of natural, peaceful labor and birth, as she believes it can be very empowering and strengthening for women, families and society.