Midwife Lauren's Favorite Herbal Immune Boosting Recipes for the Fall
by Lauren Zielinski, CNM
Ah – sweet sweet summeris winding down and as we begin to prepare for all of the fun and lovely things that come along with the winter months (the smell of hatch chiles roasting and dreaming up halloween costume are my personal favorites)….. it's a great time to prepare you and your families immune systems for the height of flu, cough and cold season. What better way to simplify your life than to avoid getting sick in the first place?One of the beautiful benefits of herbal and holistic health is that it's gentler, slower, and kinder to our system. This often translates to daily maintenance and tender loving care and attention to your body. It's up to you to take action every day to support your health.(IE: sleep, nutritious food, decreasing stress, self care). In western medicine, we tend to feed off of instant gratification— have a bug? Take a pill. You're done. But, did you know it actually takes 6 months to rebuild healthy gut flora after only one round of antibiotics? There is something to be said for preventing illness and taking care of your whole body, rather than going on a roller coaster of health drama month after month. And it doesn't have to be hard, either! There are ways you can quickly and easily achieve your 'winter-ready' immune system, and be ready to hit the holidays full force. Here are two of my favorite recipes that I recommend incorporating into you and your families health routine every day during the winter months.
Fire Cider
Making a big batch of homemade fire cider is a wonderful way to support your health, connect with folk medicine and have fun watching something ferment! Get your little ones involved – it's like making a potion! Kids actually like to drink it too when you mix it with honey or molasses! This folk remedy concoction is full of antimicrobial (bacteria fighting) vegetables, roots, spices, and herbs to provide immune support all winter long. It works like this:
Choose ingredients that call to you (see my recommended list below) and cozy up in the kitchen, choppin' and chillin' for a little less than an hour to make the cider.
Put it aside! Ferment all of the potent immune boosting ingredients in apple cider vinegar for 4-6 weeks.
Take up to 1 shot glassful every day or when you feel a bug coming on throughout the fall and winter months.
If you start now, your cider will be ready just in time for the beginnings of 'sick season'. There are many ways to modify the recipe to your liking, so don't be afraid to get creative and play with it – (a quick internet search will give you more adaptations galore).
Here is my personal favorite recipe for immune-boosting Fire Cider:
Ingredients:
½ Gallon glass jar with a metal lid (make sure to use a square of wax paper between the metal and cider when you're closing it up, or the apple cider vinegar will rust the metal)
½ Gallon of Raw Apple Cider Vinegar
1 cup horseradish root; grated
1 head of garlic; chopped
½ cup ginger; grated
½ cup fresh turmeric; chopped
½ cup dried rose hips (I like to source my herbs from a local apothecary, but Mountain Rose Herbsis also a great source)
4-6 hot peppers of your choice; chopped (jalapeño, habanero, serrano, etc.) OR 1 tsp cayenne. (You can also leave the pepper seeds out if you're concerned about too much spice.)
Zest and juice of 3 lemons
½ cup fresh rosemary sprigs; chopped
1 cup fresh oregano leaves; chopped
Directions:
Place all chopped ingredients in the glass jar and pour in the Apple Cider Vinegar (ACV) until it reaches about one inch from the top of the jar. (You'll need this extra room for shaking
Shake the jar until all ingredients are well mixed and immersed in the ACV
Set aside for 4-6 weeks in a cool dark place (corner of kitchen or pantry), giving it a good shake every day or so (I like to write myself a sticky note to remember to shake it often)
As the ingredients sink down and eventually soak up the ACV, continue to add more vinegar to fill the jar.
Strain the juice from the ingredients into a clean bowl, empty the roughage into the compost or trash, give the glass jar a rinse and pour cider back into the glass jar.
If you'd like to make it a bit more palatable for you or your kids: add honey or molasses to your liking and taste (~1-2 cups) – shake very well or use an immersion blender to mix
Finally: Some people like to pour into large glass bottles with stoppers for easier access. You can also buy a clean dropper to pull from the bottle with
Enjoy your strong immune system!
Ginger, Echinacea Ginseng Immune Tea
Drinking tea every day in the winter is a great morning or bedtime routine, it's comforting, warming, nourishes your soul and additionally is a great way to infuse daily immune boosting herbs. Echinacea, ginseng and ginger are 3 of my favorite go to herbs for immunity and anti-inflammatory properties. There is actually a fair amount of great evidence based research on the beneficial properties in each herb. Why not get a little bit of this earth medicine in your body daily?
How to accomplish: I personally never do well remembering to do something everyday unless I work it into my routine and make it really fast, easy and accessible (my busy people and mamas can you relate?) For this reason I recommend making large batches of the immune tea over the weekend or on a day off and keeping it prepped and ready to pour in your refrigerator for easy access throughout the winter.
You can drink it by heating up a cup every morning or night OR if you're pressed for time or prefer cold tea, add the tea to a water bottle and sip on it through the day (this is what I do). It's a tasty addition to your water and helps you remember to stay hydrated.
Ingredients for a large batch:
Go to your local apothecary OR if you prefer online; I recommend Mountain Rose Herbs for great quality organic herbs.
2 cups dried or 1 cup fresh chopped ginger root
2 cups dried echinacea purpurea root
1/2 cup dried American ginseng root, broken into small pieces
Honey to taste
Lemon Juice to taste
Directions:
Mix all herbs together in bowl until well combined (store whatever you're not using for this batch in a glass jar after – it looks beautiful on a counter or shelf)
For 15 minutes Simmer ½ – ¾ cup of the herbal mixture per 2 quarts of water *Important: don't let it boil. 
Turn off the heat and stir in honey and fresh lemon juice to taste
Let the tea cool slightly on the stove, strain out the herbs if you'd like and pour the tea into a glass jar or pitcher for easy access. This is the pitcher I use and love the way it looks in my fridge too! 
Drink daily through the fall and winter, hot or cold!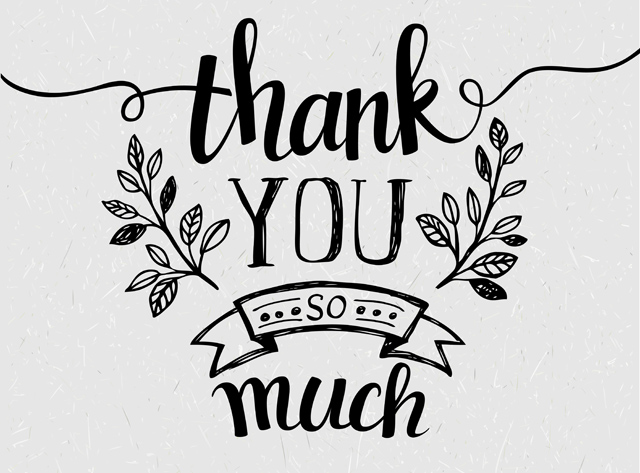 Thank you for the support!
We would like to extend a BIG thank you to some of our supporters who have hosted fundraisers that directly benefit Dar a Luz! The Remedy Day Spa Mother's Day Fundraiser
Kendra Scott (hosted by Monica Coshet with Body Language)

These businesses believe in and support the work we do at the birth center and that benefits all of our community. You can thank them directly by supporting their businesses! Interested in hosting your own fundraiser? Contact us HERE
Thank you!!!

National Pregnancy and Infant Loss Remembrance Day
National Pregnancy and Infant Loss Remembrance Day is observed annually on October 15th. It is a day of remembrance for pregnancy and infant loss. This year there are two events planned around this day.
Candlelight Ceremony
Tuesday, October 15th 6 – 8 p.m. at The Grief Resource Center
Forget Me Not Walk
Saturday, October 19th 10 a.m. – 2 p.m. at Tiguex Park
Contact Kimberlee Boreson-Maresma HERE for more info
Upcoming Events
To register for classes visit our website calendar page HERE
---
Birth Center Tours
Register HERE
Saturday, Sept 21
Saturday, Oct 12
10:00 to 11:30 a.m.
Interventions and Hospital Transfers
Learn what happens when birth doesn't go as expected. Hear from midwives, doulas, counselors, and a past family who transferred. Free dinner! YOU MUST register for this class. Click HERE to register.
Wednesday, Sept 25
5:15 to 8:00 p.m.
Doula Teas with the New Life Doula Collective
Come & join us for some tea, and meet our doulas. We'll help you learn more about doula care, so you
can explore your options. RSVP for tea HERE to let us know you're coming (drop-ins OK too) or to learn more about doulas visit Doula page on our website HERE
Monday, Sept 23 5:30 p.m.
Saturday, Oct 12 noon
_____________________________
Groups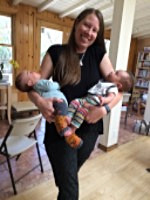 Breastfeeding and New Moms
Facilitated by our Lactation Consultant Robin Hayter with support from the nurses and midwives.
Wednesday mornings, 10:00 to noon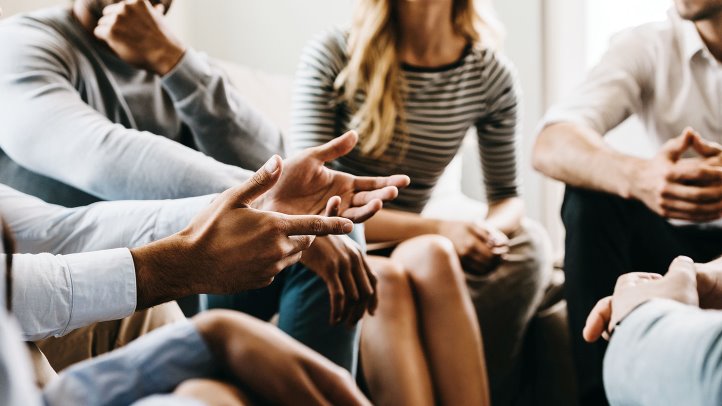 Mindful Partnering, Mindful Parenting
Feeling overwhelmed? You are not alone. Please come explore and experience gentle guided meditation and mindfulness practices that will leave you feeling calm, witnessed and supported.
Thursday, Oct 10th
6:00 to 8:00 p.m.

Postpartum Mom Group
Our staff counselor Kimberlee Maresma, LPCC will hold a therapeutic group that supports the new mother for the first year. Email Kimberlee HERE with any questions.
Baby Count
930
Milk Count
364834
…and counting! That's over 2850 gallons! Go, Mamas, Go!
---
Bonus classes
Disclaimer: Most of the special events below are set up and led by community members — not Dar a Luz staff members — and as such, they don't necessarily reflect our beliefs as an organization. Dar a Luz is not responsible for their content, and does not necessarily endorse every aspect presented.
_______________________________
Couples Mini-Retreat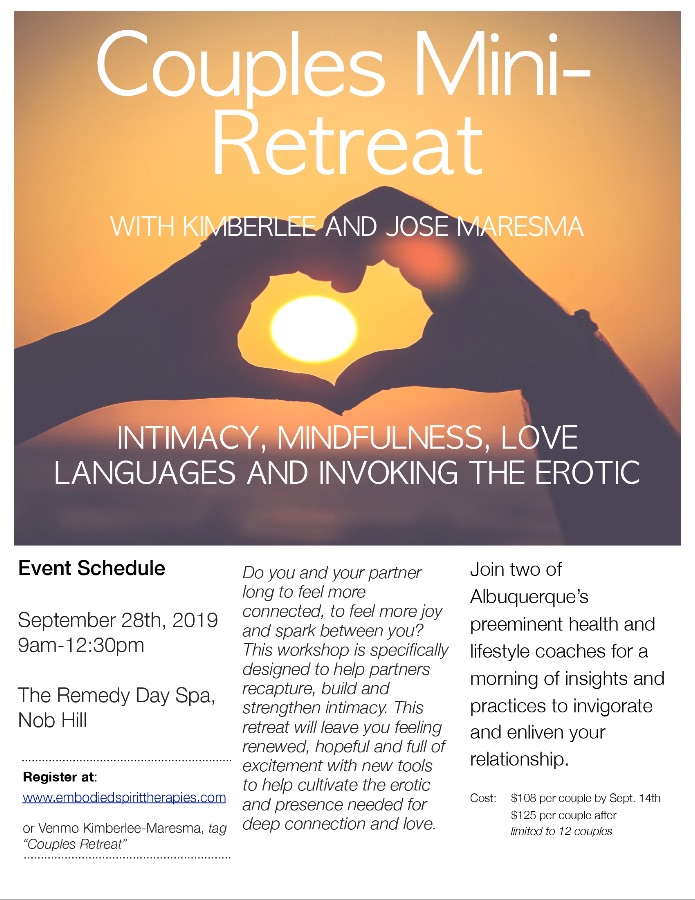 Saturday, September 28th 9 a.m. – 12:30 p.m.
Please check out website for more information and to register:  www.embodiedspirittherapies.com
_______________________________
Postpartum Partner Workshop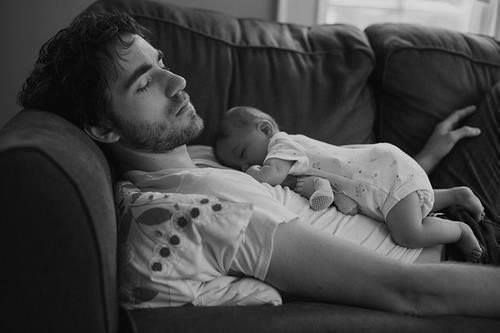 Thursday, October 24th at 6 p.m.
Please join Jose Maresma for an evening of an emotionally safe exploration of the differences our partners face after the birth of a new baby. This Workshop is FOR PARTNERS ONLY. Suggested donation: $10-20 
_____________________________
Classports are HERE!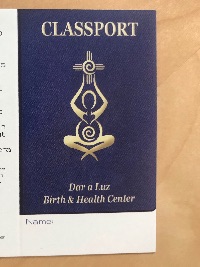 What is a Classport? Do I need one?
The classport is a new and easy way for all of our clients to know and track your education needs and resources at Dar a Luz! Talk with your midwife, educators, or Tracy to get yours! AND don't forget to get it stamped at every class you attend.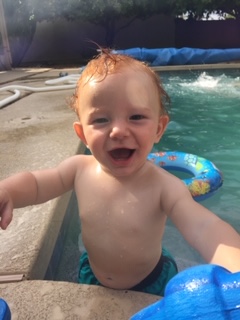 Name: Micah (baby #777!)
Birthdate: 9-19-18
Fun Fact: Micah was born en caul and has proven what a mer-man he is by how much he's loved swimming during his first summer!
You can have your baby featured by emailing usHERE a picture of your cutie and we'll put them in a newsletter! Please include permission to use the image, your little one's first name, date of birth, and a fun fact.