Mask up
by Melanie Yanke, CNM, MSN
Did any of us think the novel coronavirus (COVID-19) would impact our lives the way it has over the last six months?
With the limited information we have and the fact that asymptomatic carriers can be spreading the virus, we have to assume that everyone could be positive for coronavirus. Until we understand this virus better, have widespread immunity, or a vaccine, this virus is going to be with us for a while and protection will be recommended. The best defenses are still staying home, limiting the number of people you come into contact with, washing your hands frequently, sanitizing surfaces, and socially distancing at least six feet from others; as the virus continues to spread and hot spots of transmission continue to pop up, there is a consistent message from researchers and health officials that wearing a mask is effective in reducing the spread. Masks protect us by (1) filtering out virus- and bacteria-sized particles in the air; (2) preventing us from touching our faces with our hands which may have picked up the virus from other surfaces; and (3) protecting others from particles aerosolized from our talking, breathing, singing, yelling, sneezing, and coughing.
Please note: Dar a Luz requires all staff, clients and visitors to wear a mask while in the birth center for visits, testing, and during labor (in common areas and while DAL staff is present). Face coverings including bandanas, neck gators, scarves or a face shield do not provide adequate protection for the wearer or anyone near them. If you need one, Dar a Luz has surgical masks available to wear during your visits. Any mask you use should be well fitting, meaning it covers the nose and mouth at all times — wearing a mask below the nose is not acceptable.
How safe are they? None of us really likes wearing masks. Some people wonder if they are safe, and may feel like they can't breathe in them, or get anxious wearing them. This article sites several studies that tested oxygen levels while wearing N95 masks (which are even harder to breathe in than homemade masks) for healthcare workers and pregnant women while exercising. The results showed that the oxygen levels were very close to the baseline of being at rest and not wearing a mask in all groups, which is reassuring.
Did you know? The effectiveness of a mask not only depends on the density of materials, how many layers of fabric are used, and how well the mask fits, but also the duration of the exposure. This study shows how the effectiveness of the mask decreases over time in a highly-contaminated environment. The authors state, "Don't go to a bar for four hours and think you are risk-free because you're wearing a mask. Stay home as much as possible, wash your hands often, wear a mask when you are out, and don't touch your face."
Luckily, there are many mask options to buy, and lots of patterns to make your own. In this article I will share some of the basics about types of masks and their effectiveness, care of masks, and my favorite materials and patterns to make your own. I've included lots of pictures and links!
COMMERCIALLY-MADE MASKS:

The best filtration of the coronavirus, which measures between 0.05 and 0.2 microns in diameter, comes from N95 respirators (which filter 95% of airborne particles approximately 0.3 microns in size). N95 masks are fitted snugly to the face and have a nose wire to fit closely around the nose and protect the wearer as well as those around you. These masks are in limited supply and are mostly used by medical professionals.

Some stores are selling the KN95 masks (a Chinese version of N95 masks) to the public. Some reports state that some KN95 masks are not made well and do not provide the same protection as the American-made N95 masks, so beware and inspect what you get for defects.

Surgical masks are intended to filter particles generated by the person wearing them, and are designed protect a surgical field. They are pleated-style masks with 3 layers of thin material, elastic loops worn over the ears, and a nose wire. The blue side that should be worn to the outside, and a soft white side goes next to the face. These masks filter more particles when worn correctly. These masks tend to fit loosely around the sides and have a wide range of effectiveness, from 63-80%.
REUSING MASKS:
I have been looking for ways to safely reuse N95 and surgical masks for personal use. Various articles report that viruses can live on cloth from four hours to three days, so letting masks sit untouched in a safe and dry place for up to three days may make them ready for reuse.
One recommended method for decontaminating N95 masks is to heat them in an oven at 160 °F for 30 minutes. Note: you can only do this ten times before the materials start to break down. Do not put surgical masks in the oven because they will fall apart after one or two treatments (I tried it!) — just leave them untouched for three days (see fact sheet).
Do not wash your N95 or surgical mask in soapy water, spray it with alcohol, immerse it in bleach water, or microwave it, because this decreases the filtration or may even destroy your mask (see fact sheet).
You can typically wash cloth masks.
HOMEMADE MASKS
Effectiveness of different masks and materials:
I have also been looking into alternative materials to make homemade masks. I have done a lot of online research and I have found that the materials a mask is made of are important; however, if the mask doesn't fit snugly, it loses much of its effectiveness. We can't test each style of homemade mask with all the possible materials, but we can choose our materials and fit to give us the most protection.
What are the best materials to use for homemade masks?
You can find evidence-based information on the best materials for making your own masks HERE and HERE. It seems that good quality cotton fabric, bed sheets or denim are among the recommended materials that result in the best filtration and breathability combination. This research shows images of the particle spread after a cough using different types of homemade masks. It states that "loosely-folded face masks and bandana-style coverings provide minimal stopping-capability for the smallest aerosolized respiratory droplets. Well-fitted homemade masks with multiple layers of quilting fabric, and off-the-shelf cone style masks, proved to be the most effective in reducing droplet dispersal. These masks were able to curtail the speed and range of the respiratory jets significantly, albeit with some leakage through the mask material and from small gaps along the edges. Importantly, uncovered emulated coughs were able to travel notably farther than the currently recommended 6-feet distancing guideline (up to 12 feet)."
This study tests the filtration efficiency of common fabrics used for homemade masks. While multiple layers of cotton or cotton/silk, cotton/chiffon or cotton/flannel hybrids filter 80-90% of particles, the masks made from these materials would lose 60% of efficiency if they fit poorly, were loose or had gaps.
Filters
Additional layers of non-woven polypropylene materials can improve the efficiency of masks. Below is information on several different types of filter materials.
Nose wires
Any mask you make needs to have a nose wire sewn in at the top so that you can form it around your nose for a better air seal and more efficient filtration. These can be made from many different materials including:
Pipe cleaners folded in half. Make a small loop on the ends of the wire so it doesn't poke out of the fabric
20-gauge galvanized wire doubled in the same way you would fold a pipe cleaner
Vinyl-coated paper clips straightened out (these tend to poke through the fabric after a few washings)
Aluminum foil strips (these are not very durable)
Metal file folder fasteners ordered from an office supply store
Coffee bag tin ties
Ties and bands
There are different ways to hold the masks on your head depending on your preference. I have found the fabric ties to be the most comfortable when wearing a mask for many hours. If you are just wearing a mask for a few minutes to run into a store, elastic is convenient (but long-term it can hurt your ears). Another option is to use a combination of elastic looped through a fabric strap at the back of the head. Some supplies are out of stock due to the demand and you may just have to use what you have or what you can get. Some options:
Handmade fabric ties ½" wide by 21 inches long
3/8" to ½" bias tape
1" strips of T-shirt or lycra material
Cotton twill tape
Shoe strings or paracord
Grosgrain ribbon (silk or other kinds will not hold)
¼" to 1/8" elastic to go around the ears
5/8" to ¾" button hole elastic, buttons for side of mask (makes it adjustable)
MASK PATTERN IDEAS:
I have looked at many patterns and made samples of quite a few of them. There is not one mask style that fits every face shape and size, but the best mask for each person will fit snuggly and not have any gaps. Considerations include dealing with disabilities, fitting children, facial hair, hairstyles, the length of time the mask will be worn, and personal preference or style. Masks should be made of at least three layers of materials (see this study about multiple layers improving efficiency of the mask).
Types of masks
There is a wide variety of patterns including:
Folded masks that do not require sewing
Surgical-style pleated masks with and without filter pockets
Duckbill styles
Curved fitted masks with and without filter pockets
Laser printed masks
Melanie's top picks for the various kinds of home-made masks
Best-fitted and most comfortable mask: The Fabric Patch mask
These masks give more room for breathing and do not touch your lips. This curved fitted mask is made with two layers of cotton quilt fabric and two layers of sewn-in medium-weight embroidery stabilizer. Handmade 21" fabric ties (½" finished width) are set in ½" from edge. Pipe cleaner for nose wire inside a 3/8" pocket. Click HERE for pattern (includes sizes for toddlers, children, teens/women and men) and video instructions. I used the teens/women size.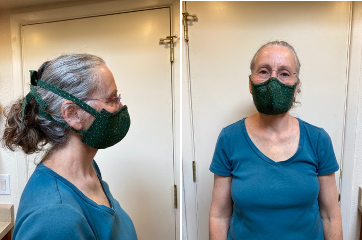 Best-fitted curved mask for elastic ear straps: The Modified Marfy
This mask has a good breathable space too. I modified this pattern and made it with two layers of quilter's cotton and two layers of medium-weight embroidery stabilizer sewn in. I used a doubled pipe cleaner in a 3/8" pocket for the nose piece. You will need 2" x 6-7" pieces of 1/8" elastic for the ear straps. See HERE for modified women and teen sizes; you can find the original HERE.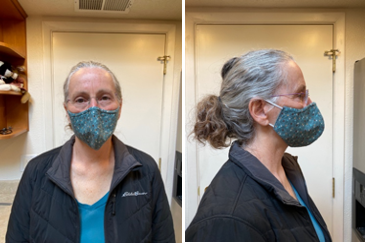 Alternative fitted curved mask: the Jesse Mask
This is a similar pattern, which has ear and chin measurements fitting children to large adults, found HERE. And HERE is a video on making child/teen/young adult masks from the Fabric Patch and Jesse mask patterns, and some ways to enhance gators and scarfs to be more efficient.
Best duckbill-style mask from Halyard H600 fabric:
This is the quickest mask to make, fits well and only uses 2 layers of the Halyard H600 fabric. I made four ties out of 1" strips of the single-layer fabric and folded them over, and sewed them to make ½" ties that are 21" long (you don't need to put the yarn in the ties like the video suggests). I used 8½" of 20-gauge galvanized wire from the hardware store folded in half with loops on the ends for the nose wire in a 3/8" pocket. You can find the instructions for this mask and a pleated surgical style mask (I find the duck bill fits better and is easier to make) HERE.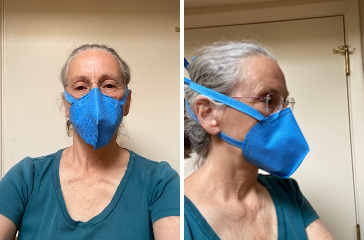 Finally, here are various other patterns you might want to play with (I either didn't try or didn't love these).
I hope you have fun creating your own masks! If you have any questions, you can email me HERE.
Melanie Yanke, CNM
Melanie is one of the midwives at Dar a Luz Birth & Health Center in Los Ranchos, NM. She has a passion for making beautiful and useful things!